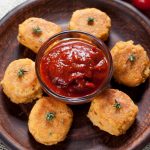 Baked Salmon Bites
Ingredients
2

cans

salmon

(6-ounces)

½

avocado

2

tbsp

all-purpose flour

1

tsp

garlic powder

1

tsp

onion powder

1

tbsp

Dijon mustard

¼

tsp

black pepper

Non-stick spray
Instructions
Mix all ingredients together in a mixing bowl. Once combined, form golf ball or smaller size patties.

Spray a cooking sheet with non-stick spray and place salmon bites on sheet.

Bake at 400 degrees for 15 minutes.

After 15 minutes, flip patties to the other side and bake for another five minutes. Serve hot!
---
APRIL NUTRITION NOTES
What is Collagen?
Collagen is a type of protein. Our bodies make collagen and it is in some of the foods we eat, and makes up about a third of the total protein in the human body. Collagen is found in our skin, tendons, ligaments, organs, bones and teeth. As we age, the ability for our body to make collagen decreases. Smoking, alcohol, pollution, and a diet low in fruits and vegetables all affect how our bodies make collagen.
Recently, collagen supplements have been in the spotlight claiming to improve skin, gut health, joint health and more! However, the research and science to support these studies is not quite there yet.
Collagen adds to a person's overall protein intake to their diet. Adequate daily protein is more important than ingesting collagen, specifically. Furthermore, collagen is not a complete protein like whey protein or meat sources of protein. This means collagen is less effective in building protein stores in the body compared to complete proteins. Currently there are no studies verifying claims by supplement companies regarding ingesting collagen. This does not mean recommendations may or may not change as science uncovers more information about this unique type of protein!
Takeaway message – if you are interested in the claims made by collagen supplements, seek out advice from a dietitian, dermatologist or your doctor!