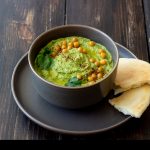 Green Goodness Hummus
Ingredients
1

15 ounce

can of chickpeas

2

tbsp

olive oil

3

tbsp

lemon juice

¼

cup

tahini

2

cloves

garlic

½

tsp

cumin

½

bunch

fresh parsley

½

bunch

fresh cilantro

4-5

green onions, ends trimmed off
Instructions
Drain and rinse the chickpeas.

Add all ingredients to a food processor or high-powered blender. Pulse the ingredients until the mixture is mostly smooth or to your desired consistency.

Serve with carrots, celery and whole wheat pita or crackers!
Snacking for Success
Snacking during the day can be a great way to fill in nutrient gaps, keep up energy levels and enjoy healthy options. Some people may think of processed and packaged foods when they hear "snacks." However, snacking on nutritious options can be incredibly beneficial, no matter your nutrition goals. Here are three tips to snack successfully.
1. Pair a source of protein and fiber together for each snack. For snacks, examples of fiber-rich foods could be apples, bananas, carrots, celery, whole grain crackers or a whole wheat tortilla. Examples of high protein snack ideas could be Greek yogurt, low-fat cheese sticks, nuts, hummus or hard-boiled eggs.
2. Plan for your snack. Planning when you will have a snack helps decrease mindless eating and lets your brain and body know when they will receive food next.
3. Choose calorie-free beverages. Successful snacks satisfy us best when we are hydrated, so make sure you have some water, unsweetened tea, seltzer or other calorie-free drinks close by when snacking!