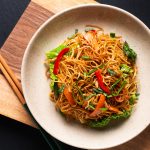 One–Pot Sesame Noodles
Ingredients
8

ounces

whole-wheat pasta (spaghetti or linguine shape)

4

cups

water

3

baby bok choy, sliced

1

bell pepper, sliced

2

carrots, cut into coins

1

yellow onion, sliced

4

cloves of garlic, minced

1

tbsp

fresh ginger, grated

3

tbsp

sesame oil

1/4

cup

low sodium soy sauce

1

tbsp

brown sugar

1

tbsp

rice vinegar
Instructions
In a large soup pot or Dutch oven, heat the pot over medium heat and add the water, pasta, cut vegetables, brown sugar, sesame oil, soy sauce, garlic, ginger and vinegar.

Heat for nine to 10 minutes until noodles are cooked and vegetables have softened.

Serve with desired toppings such as cilantro, peanuts or scallions.
---
Allergy vs. Intolerance
It is very common to hear about someone allergic to peanuts or shellfish or someone intolerant to lactose, but what is the difference between the two? The immune system. When someone has a true food allergy, their immune system activates, sending out body–wide signals indicating an allergic reaction. Intolerance can also cause uncomfortable symptoms but does not involve an immune response and tends to be less severe than an allergy. While symptoms from a food allergy are immediate, symptoms from food allergy are immediate, and symptoms from food intolerance show up later. The top eight foods people are allergic to include peanuts, milk, eggs, shellfish, tree nuts, soy, wheat and fish. If you have a personal concern about a food allergy or intolerance, reach out to your primary care provider.