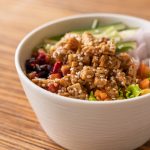 General Tso's Tempeh
Ingredients
1/2

cup

low sodium soy sauce

2

tbsp

rice vinegar

1

tbsp

maple syrup

1

tsp

sesame oil

1

tsp

garlic powder or minced garlic

8

oz

tempeh

red chili flakes
Instructions
Cut tempeh into bite sized squares.

In a non-stick skillet over medium heat, addtempeh squares and cook 3-4 minutes on each side until golden brown.

While tempeh is cooking, place all other ingredients in mixing bowl and stir to combine.

When the tempeh is done cooking, turn the heat to low and pour sauce over tempeh squares. Stir the sauce around the tempeh to evenly coat and warm the sauce.

Once the sauce is hot and tempeh is covered remove from heat and serve over brown rice and with some veggies for a complete meal!
JUNE NUTRITION NOTES
Time for Tempeh!
Have you ever tried tempeh? Tempeh is an excellent source of protein that comes from soy beans. While tempeh is often compared to tofu, it is quite different. Tempeh is made from whole fermented soy beans which gives it higher amounts of fiber, protein, and antioxidants than tofu. But tempeh's benefits don't stop there, food's fermentation process also makes it a source of probiotics and gives it a firmer texture than tofu. All of these benefits make tempeh an excellent meat substitute. Tempeh can be cooked and served in a variety of ways including grilled, sautéed, roasted, and more!