If you had asked Tribal Member Johnathon Moulds at age 19 what his dreams were, he would have said nothing. Graduating from high school near the bottom of his class, he had no plans for his life. Deep in the grips of anxiety, fueled by addictions to alcohol and opiates, ending his own life seemed like his only way out. Before he was 20 years old, he had attempted suicide — twice.
"What got me off addiction was the way I found the Creator and how the Creator taught me the full understanding of my meaning here on Earth," said Moulds, now 33.
He still struggled with addiction in his 20s.
"I was spending much of my monthly income on drugs, going nowhere," he said.
As he watched his children grow up, he slowly began to turn his life around.
"It's an open wound. I am still recovering every day."
He found solace and comfort throughout his recovery in traveling and hiking solo, discovering his inner tranquility and closeness to the Creator.
"Outdoor recreation was always a passion of mine, and I started to rekindle this passion," said Moulds.

Over the next few years, Moulds traveled and hiked all over the United States, but once he laid his eyes on the majestic Mount Rainier – also called Tahoma or Tacoma – in July 2019, he immediately thought, "Here's the challenge I am looking for."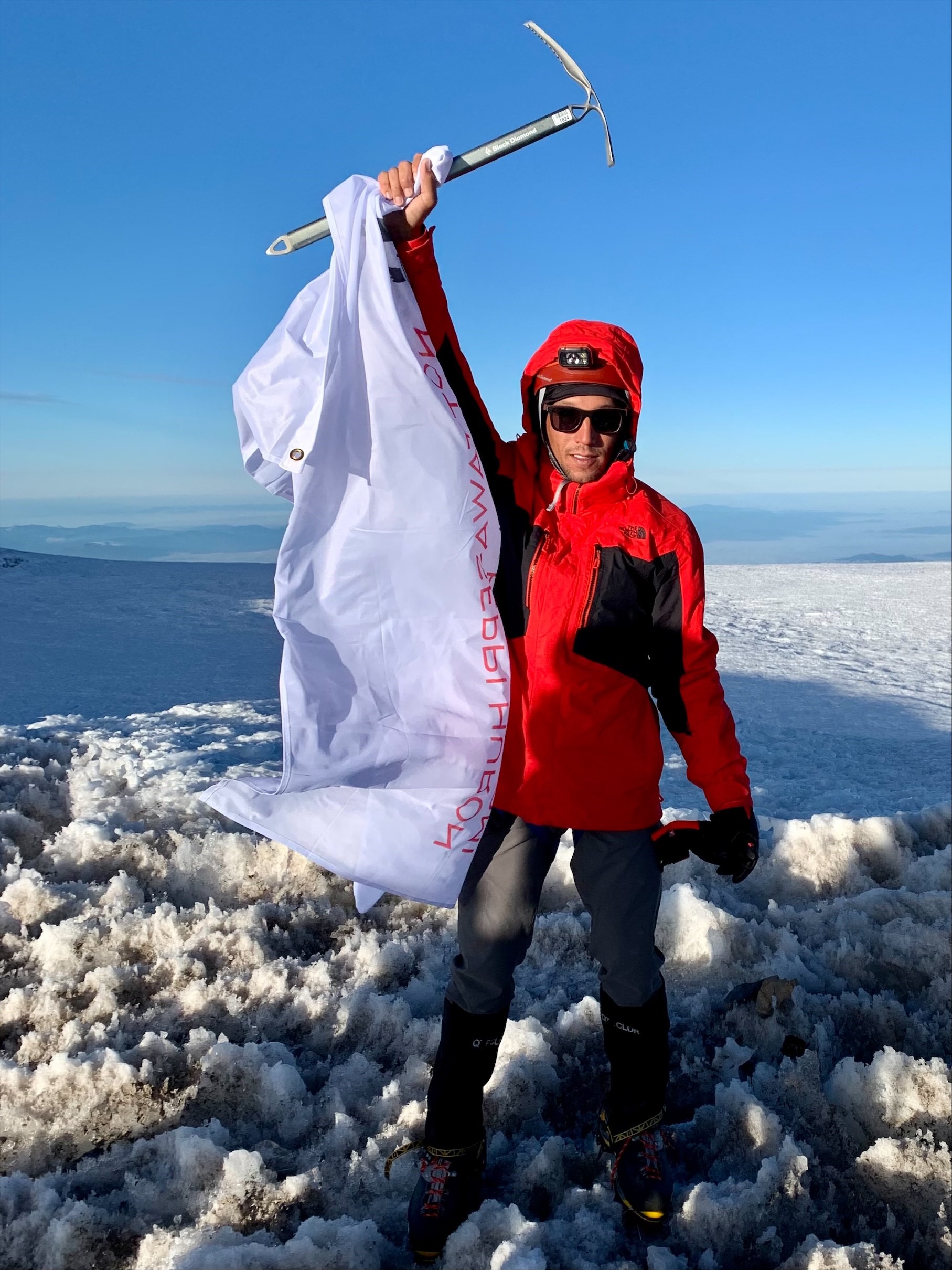 As part of the Cascades chain, Mount Rainier stands as the tallest peak in the state of Washington at 14,410 feet above sea level. Being a glaciated peak, it remains snow-covered year-round and requires special equipment to climb. Only 10,000 people attempt to scale Mount Rainier each year, with a mere 60% success rate, according to the National Park Service.
Moulds wasted no time applying for a climb date and was selected for July 4, 2020.
After "mentally falling apart in late 2019, I gained a lot of weight. It wasn't until COVID hit in March 2020 that I started running again and really getting into the official training in August 2020."
Pushing farther

From that day forward, if he could exercise, he did. Training as many as three times a day, Moulds hired a personal trainer to oversee his posture and push him farther than he thought he could go. In total, he ran 1,000 miles as part of his training.
The entire training process changed his life.
"Training was a battle within itself, and a few times, the only way to heal was through tears. It was so tough, but I knew I had to go back out and do it," said Moulds. "I've developed self-awareness through my self-discipline."
Even the pandemic couldn't stop Moulds, whose initial date for his Mount Rainier climb was canceled due to COVID-19. Moulds rescheduled for the summer of 2021 and used the extra year to train harder.
Moulds often donned weighted vests of 30 or 60 pounds while running or walking. While everyone else would hunker down, Moulds would eagerly await Michigan snowstorms so he could train outside to build his lung strength and capacity.
Finally, at 9 a.m. on July 3, 2021, Moulds faced his long-awaited challenge of climbing Mount Rainier.

Traveling to Paradise, Wash., Moulds began the sojourn up the mountain with eight other individuals from all over the country led by expertly trained and experienced guides.

Beginning at 5,000-foot altitude at the Paradise Trailhead, the group hiked at the grueling pace of 1,000 feet of elevation per hour.
"Two other climbers, a guide and I all were attached to each other with ropes, heading up on the snow-covered trail," said Moulds.

They made it to Camp Muir, which stands at 10,000 feet, where the group rested from 5 to 11 p.m. before once again trekking up the now pitch-black mountain at midnight.
"We avoided the heat of the late afternoon with the timing of the climb and breaks," explained Moulds.
However, not everyone could muster the strength to keep going up the mountain. One by one, trekkers began turning back down Mount Rainier. Only five would make it to the top.
"It was so disheartening when others didn't make it," said Moulds. Those who turned back were led down by guides, where they waited for the others to climb back down that afternoon.
"I told myself, 'You need to finish this,'" said Moulds. The darkness helped Moulds concentrate on his climbing and breathing, which helped him stay focused on his mission.
The night slowly turned back into day toward the top of the mountain.
"Seeing a sunrise from that perspective, and that high in the sky, is a memory I will hold onto for the rest of my life," he said.
For "those who aren't with us today"

At 6:10 a.m. July 4, Moulds declared his independence from his own mental and emotional constraints. He had made it to the top of Mount Rainier, a total climb of 10,000 feet, where he stood 14,410 feet above sea level.
Moulds proudly held up his Tribal flag on the summit, overlooking the clouds.

"I dedicated my summit to those who have fought hard but ultimately lost their battle to addiction; to those individuals who aren't with us today."
Having made it to the top, the trekkers then faced the arduous descent from Mount Rainier, where they reconvened with the others at Camp Muir. They climbed back down the mountain by 2 p.m. that day with increasing difficulty as fatigue and disorientation set in.
"It was definitely a trial, thankfully, with no errors," said Moulds. "My motivation came from a strong community of voices and from allowing me to represent NHBP as a Nation making that climb.
"We go back to our roots, and we reconnect with our Ancestors, absorb their wisdom and knowledge and we live by our Seven Grandfather Teachings. It's knowing what your battles entail and how to overcome them. People can turn their lives around, live whatever their dreams are, doing so with passion and motivation."
For Moulds, his future is much brighter than his bleak early adulthood.

"I plan on traveling more and to continue making memories with my family," he said. "I would like to involve my kids with more outdoor activities, including climbing."

Moulds hopes his summit will inspire Tribal Members to live their dreams, no matter how small or big they are — even as large as the national icon, Mount Rainier.