"In the Native community, we look to our Elders to guide us, and we seek their advice during trying times," Community Health Outreach Manager Cameryn Ryan, MPH, said.
Heeding the sage advice from Elders during the pandemic and the initial vaccination campaign was second-nature to Health and Human Services Department.
But this very approach used for the COVID-19 vaccination campaign at NHBP caught the attention of the American Public Health Association, of which Ryan is a member. The association invited Ryan and Health Educator Shelby Brueck to virtually present NHBP's vaccine campaign success at its annual conference on Thursday, Oct. 21.
During the national conference, Ryan and Brueck presented, "Addressing COVID-19 Vaccine Hesitancy Through Community-based Messaging in a Native American Tribal Population,"designed for those invested in public health.  
"As a people, American Indians/Alaskan Indians have some of the highest vaccination rates compared to other populations within the United States, especially early in the campaign," said Ryan. According to the Centers for Disease Control and Prevention, 45.5% of American Indians and Alaska Natives received at least one dose, and 39.1% were fully vaccinated as of July 6, 2021.
Much of the vaccine campaign success at NHBP can be attributed to NHBP Elders sharing their stories about their personal decisions to get vaccinated against COVID-19, Ryan said.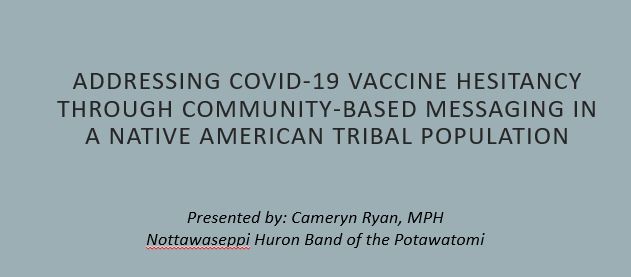 By capturing videos through Zoom calls and FaceTime, nearly a dozen NHBP Elders explained in their own words why they chose to get the vaccine and encouraged other Members to do the same to protect the Community. In early 2021, HHSD created a social media campaign with these videos to promote getting Tribal Members vaccinated for COVID-19.
During the presentation to the APHA, Ryan shared that these videos featuring Elders garnered four times the attention on social media platforms than did general COVID-19 vaccination messages among NHBP Tribal Members.
"The sharing of personal stories built upon the existing relationships among Tribal Members," presented Ryan. "By using these personal stories, we were able to meet our Members where they are, with people they know."
As vaccine eligibility continued to expand, so did the HHSD campaign within the Tribe. The department invited other Tribal Members who represent key groups – such as Tribal youth and young mothers – to share why they received their jabs of COVID-19 vaccines.
"These videos received three times the interaction of the generalized COVID-19 vaccine messaging on social media, for example, messaging from the CDC, and so we were able to measure just how much more effective and impactful these stories were from within our Tribe were compared to stories from 'outside,'" Ryan presented to APHA.  
The challenges are not over for NHBP.
"As Native Americans, we face longstanding mistrust issues in the federal government, and as a Tribe, we knew we had to address this head-on by using a campaign with familiar people, talking about the things that concern us," said Ryan. "Misinformation about the COVID-19 vaccines was, and unfortunately still is, a barrier we are faced with as a Tribe."
With Elders imparting their wisdom, along with other Tribal Members who shared their vaccine experiences, NHBP has provided important information to its Tribal Members and helped educate other public health officials and organizations on effective communication strategies and processes through its APHA presentation experience.  
Also asked to present at the APHA Conference 2021, NHBP Community Health Representative Pennie Jewell presented the topics of "Building Capacity for Community Health Worker-centered Evaluation and Research" and "Developing a Measure of Community Health Worker Supervision."
"I enjoyed the opportunity to present on how to create sustainable funding for Community Health Representative/Community Health Worker programs,"," said Jewell. "We also discussed the importance of our roles during the COVID-19 pandemic, and how we help others build resilience in these difficult times."
If you have questions about the COVID-19 vaccine or boosters, please contact the Pine Creek Health Facility at 269.729.4422 or the Grand Rapids Health Facility at 616.249.0159.