Meghan Frye Named as Honoree in Class of 2024 Emerging Leaders of Gaming 40 Under 40
Written by Leslie McLove
Congratulations to NHBP Gaming Commission Executive Director Meghan Frye, who was selected by Global Gaming Business and The Innovation Group in October 2023 as an honoree of the class of 2024 "Emerging Leaders of Gaming (ELG) 40 Under 40." This program honors 40 rising professionals under the age of 40 who are making significant impacts in the casino gaming industry.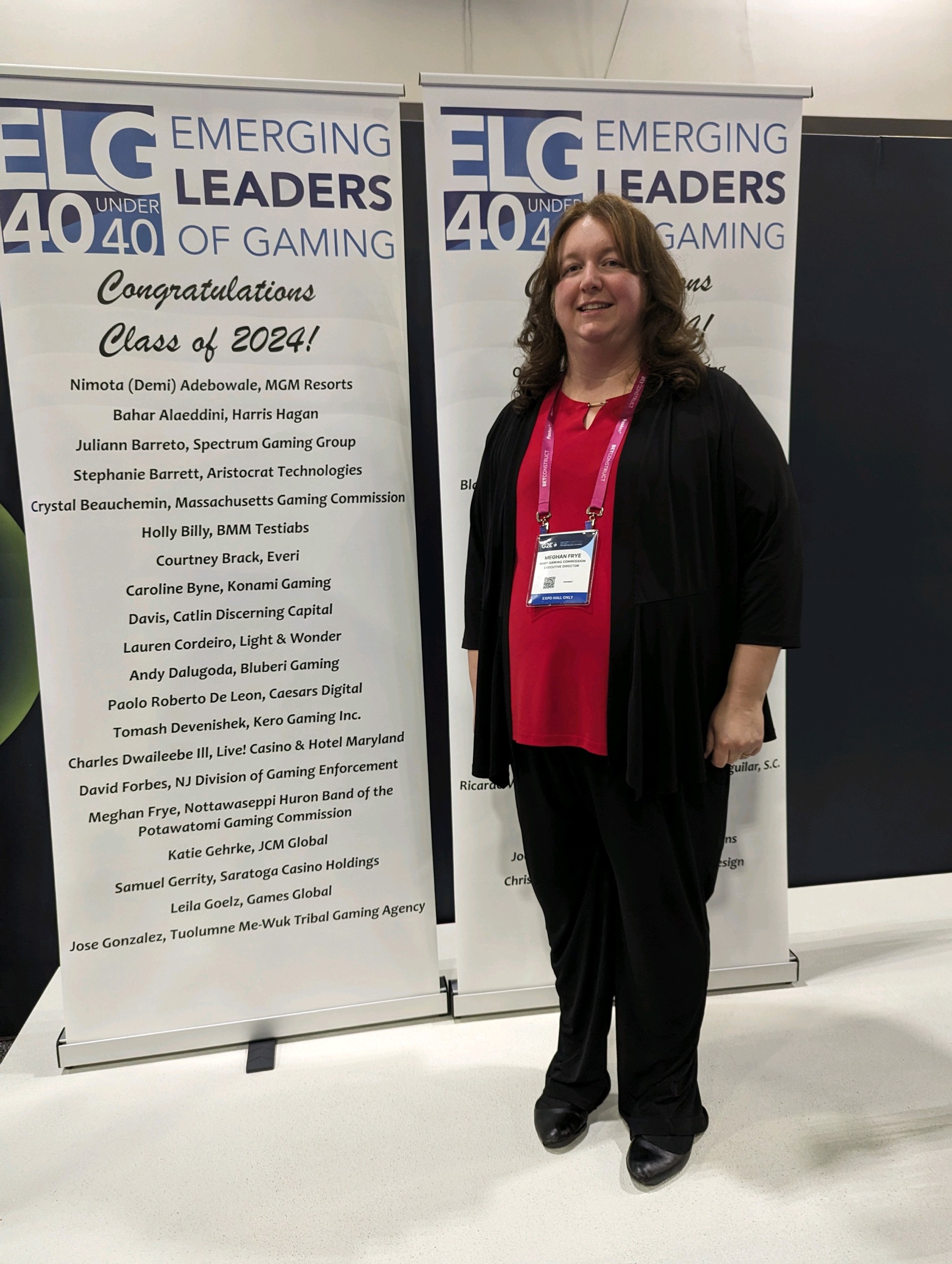 Every year, with the release of the "Emerging Leaders of Gaming 40 Under 40" list, the gaming industry gets to take a peek at the leaders of the future. NHBP Gaming Commission Chair Chris Rogers nominated Frye for the class of 2024, and she was selected from a record-breaking number of nominations solicited from the broader gaming industry.
"It has been so exciting to be named an honoree," said Frye. "It's such a privilege to represent NHBP at this level. And, of course, I am thankful for the support of the Commissioners in all of our endeavors, and my amazing team that is always dedicated to completing our strategic plans and moving the Commission forward."
According to their website, ELG was created to support young executives on the path to industry leadership through education, networking and other career development opportunities. "Emerging Leaders of Gaming has established itself as the go-to network for young professionals assuming the next generation of leadership in gaming, entertainment, hospitality, food and beverage, tourism and leisure. It supports the growth and development of these rising stars on their path to success and future senior-level and C-suite positions."
What sets Frye apart in Tribal Gaming is her proactive and action-oriented approach.
"While regulators often have to be reactive, I've been able to seek out opportunities for the Gaming Commission to be proactive," said Frye. "We have been learning new ways to utilize technology to communicate with our licensees and work more efficiently with digital applications. We have been writing new regulations to provide guidelines for clarifying and enhancing compliance and keeping up with changes in technology.
"We have also engaged with other Gaming Commissions at the state level and throughout Tribal Gaming, as well as connected with national organizations, enriching our knowledge and sharing regulatory understanding."
By taking these steps, the NHBP Gaming Commission has been able to protect the assets of NHBP, provide support to FireKeepers Casino Hotel, and influence gaming regulation at a national level.
According to Frye, the most valuable skills for emerging leaders to embrace and practice are the ability to embrace change and have an open mind.
"I've learned the importance of flexibility in how I look at things, as I realize that situations are hardly as straightforward as they first appear. It's crucial to seek out changes and be willing to embrace challenges, even when they seem scary. Often, seizing the right moment and saying 'yes' can be the turning point in one's career."
The Class of 2024 celebrated and recognized this year's Honorees during the Emerging Leaders of Gaming 40 Under 40 networking reception held during the 2023 Global Gaming Expo (G2E) in Las Vegas, Nevada, this past October. She will also be recognized in a future article in Global Gaming Business magazine.
Looking ahead, Frye intends to "keep our Gaming Commission growing and continue to face challenges head-on."
Congratulations to Frye, and best of luck to her as she continues on her path to becoming an even more successful and influential industry leader.