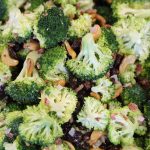 Sweet & Tangy Broccoli Salad
Ingredients
Dressing
½

cup

olive oil mayonnaise

2

tbsp

Dijon mustard

3

tbsp

honey

1

tsp

apple cider vinegar

¼

tsp

garlic powder

¼

tsp

paprika

Black pepper to taste
Salad
1

large

broccoli crown

or about 5 cups raw broccoli

¼

red onion

finely diced

½

cup

slivered almonds

¼

cup

raisins or dried cranberries
Instructions
In a small bowl mix the first seven ingredients together to create a dressing.

Next in a large bowl combine the broccoli, onion, almonds, cranberries and dressing together.

Toss to coat. Serve immediately or refrigerate until use.
---
NUTRITION NOTES
Food For Thought
Have you ever thought about the way we talk about food and how that shapes what we eat? The average American is quick to label food as "good" or "bad" but can we really put food into black and white boxes like that? Food is more than fuel and that means it can serve many different purposes.
While one may think pizza or birthday cake is a "bad" food because it offers little nutritional value, it could be argued that it is a "good" food because it brings people together and provides joy. When we appreciate food for what it is, we are more likely to respect the place it holds in our everyday diet. Labeling food as good or bad associates it with morality, and we are not more or less moral based on the food we eat!
Take this as a challenge to move forward without classifying food as good or bad, and instead focus on the postives of what food adds to your life.