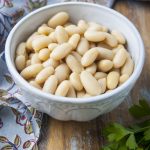 Cannellini Quesadillas
Ingredients
1

15oz

Can of cannellini beans

2

cups

fresh spinach, roughly chopped

1/2

cup

shredded cheese of choice

1/2

cup

sour cream

1/4

tsp

ground cumin

1/2

tsp

garlic powder

4

whole grain tortillas, taco size ( 6-8 inches)
Instructions
Rinse beans under running water and add to a mixing bowl. Rough chop spinach and add to bowl. Add seasoning, sour cream, and cheese to same bowl and mix to combine.

Divide the mixture between the four tortillas. Spread mixture on and then fold tortilla in half.

In a skillet over medium high heat cook quesadillas for 3-4 minutes on each side or until shells are brown and crispy, and insides are warm and melty.

Cut quesadillas as desired and serve hot!
JULY NUTRITION NOTES
What does lean protein mean?
We have all heard that we are supposed to eat lean protein daily. But what does that really mean? Is there a specific definition of lean?
The Dietary Guidelines for Americans recommends consuming most of your protein in the least processed form. This means fresh, frozen or canned, with minimal added ingredients. Red meat, poultry, seafood, and plant proteins can all be nutritious and lean options to include in your weekly meals. When selecting meat think: loin=lean! Red meat comes from any animal that walks on four legs and carries fat under the belly, which includes cow, lamb, pig and game meats. Processed meats include hot dog, sausage, bacon and lunch meats. The American Institute for Cancer research recommends no more than 18 ounces of red and processed meat per week. That is about four servings of red and processed meat per week!