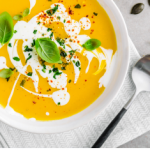 Simple Pumpkin Soup
Ingredients
2

Tbsp

olive oil

1

medium

diced onion

3

cups

chicken or vegetable broth

1

15-oz can

pumpkin puree

1/2

tsp

chili powder

1/2

tsp

nutmeg

1

tsp

smoked paprika

1/4

tsp

cayenne pepper
Instructions
In a medium sauce pot, heat olive oil over medium-high heat and then add diced onion.

Sauté the onion until soft and translucent (about 3 minutes).

Add the pumpkin purée, chicken broth, smoked paprika, chili powder, cayenne pepper and nutmeg.

Stir to combine the ingredients, then allow the soup to come up to a simmer for 10 minutes.

Serve hot with a dollop of sour cream if desired.
---
OCTOBER NUTRITION NOTES

Food Insecurity
Food insecurity is defined as having a lack of reliable access to healthy food. Food insecurity can be a temporary or long-term problem for those who experience it. People who are food insecure may live in rural or urban environments and may have jobs or be unemployed. Food insecurity can affect anyone.

Due to the COVID-19 pandemic, 42 million people are at risk for food insecurity this year. In West Michigan, about 1 out of 8 people is considered food insecure. Solving food insecurity is difficult due to having so many unique causes. Poverty, housing access, and lack of education are just a few significant issues that affect healthy food access.

For more information on food insecurity, check out www.feedingamerica.org.