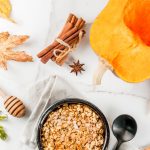 Pumpkin Spice Baked Oatmeal
Ingredients
3

cups

old fashioned rolled oats

1/4

cup

brown sugar

1 1/2

tsp

baking powder

2

tsp

pumpkin pie spice

1/4

cup

dried cranberries

2

eggs

2

cups

milk of choice

1

cup

pumpkin puree

1 1/2

tsp

vanilla extract

1

tbsp

olive oil

3/4

cup

finely chopped pecans (optional)
Instructions
Preheat oven to 350 degrees F. Prepare a 9×13" baking dish with either non-stick spray or parchment to prevent sticking.

Mix dry ingredients together first and then mix wet ingredients together. Combine dry and wet ingredients and mix. Pour batter into prepared baking dish and top with pecans if desired.

Bake uncovered for 35 to 40 minutes. Serve hot and enjoy!
---
Every year in November, NHBP is happy to offer the Harvest Health program during the weekly Lunch and Learns at The Reservation's Community Center. This year, the Harvest Health program provides information about lowering blood pressure and taking care of hearth health! The NHBP Community Health Needs Assessment inspired this topic that went out to Tribal Members in 2021. Of 188 respondents, 78 responded that they had been diagnosed with hypertension or high blood pressure. That is 41.5% of respondents! For this reason, the NHBP Health team is excited to offer more information regarding this chronic disease in hopes of prevention and health education to those trying to lower their blood pressure. For more information on heart health, check out www.heart. org.