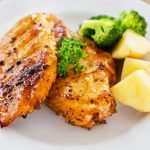 Seasoned Chicken Meal Prep
Ingredients
1

lb

chicken breast

1

lb

broccoli florests

(fresh or frozen)

2

lbs

russet potatoes

diced

3/4

cup

Italian dressing

1/4

cup

olive oil

2

tbs

Italian seasoning

1/3

cup

parmesan cheese

black pepper
Instructions
Pre-heat over to 400 degrees

Chop potatoes into 1-inch size pieces. In a large bowl, combine broccoli florets, potatoes, and olive oil and stir to combine. Then top with parmesan cheese, Italian seasoning, and black pepper, stir to combine.

Pour potatoes and broccoli on a baking sheet.

In a separate bowl, place chicken breast and season as desired and then top with the Italian dressing making sure to fully coat chicken breast.

Place coated chicken breast on a baking sheet with potatoes and broccoli and place into the pre-heated over for 30 minutes or until potatoes are tender and chicken reaches an internal temperature of 165 degrees.

Portion out into 4 different containers to have a meal throughout the week!
---
Meal Prepping!
Meal prepping is a term used to describe the process of taking a designated time to prepare multiple meals for throughout the week. Meal prepping has many advantages, including saving time, money, improving nutrition and more. The first step in meal prepping is deciding what you want to eat! Make sure to include some lean protein, complex carbohydrates, and produce; your meal doesn't have to be fancy to be delicious and nutritious. Then make your grocery list. Plan out exactly what you need and how much you are going to buy at the store. Once you have gathered your ingredients, head to your kitchen to get cooking. It may seem like you are cooking an excess amount of food at first but remember this will last you several days! Make sure to label and date each item so you know when you need to eat them by. Happy meal prepping!