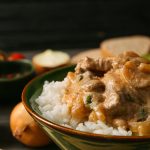 Velvety Mushroom Gravy & Lentils
Ingredients
8

ounces

mushrooms

1

cup

lentils

2

cloves garlic, minced

1

tsp

dried thyme

1/2

tsp

dried sage

2

cups

broth of choice

13.5

ounce

can of unsweetened coconut milk

olive oil

pepper to taste
Instructions
Thinly slice mushrooms. Place a large skillet over medium heat. Once the skillet is hot, add olive oil, minced garlic and sliced mushrooms. Sauté until the mushrooms have softened and started to brown.

Next, add the thyme, sage, lentils and broth. Stir to combine. Place the lid on the pot and cook for 20 minutes.

After 20 minutes and the lentils have softened, add the coconut milk and cook for another 4 to 5 minutes until the mixture has slightly thickened.

Serve over brown rice or potatoes and with a side of vegetables!
---
Lovely Legumes
Have you ever heard of legumes before? Even if you haven't, you've probably eaten them! Legumes are a family of plants that encompass lentils, peas, pulses and beans. What a delicious group of food! There are a number of different types of lentils and they all have a large variety of nutritional benefits. In general, legumes are going to be a great source of fiber. Fiber helps keep your digestion system working its best and helps keep your heart healthy as well. Legumes are also a great source of plant-based protein. Incorporating plant-based protein in place of red meat, even just once per week, is a great way to lower saturated fat intake. One of the best parts about legumes is how affordable they are too; one bag of lentils cost around $2.00 and can make multiple meals for a family of four!