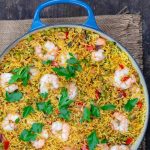 One Pot Mediterranean Shrimp and Rice
Ingredients
12

ounces

shrimp, peeled & thawed

2

tbsp

lemon juice

4

cloves of garlic, minced

2

tbsp

olive oil

1 1/2

cups

instant brown rice

2 1/2

cups

vegetable broth

1

tbsp

Mrs. Dash, garlic and herb flavor

Fresh chopped parsley

1/3

cup

crumbled feta cheese (optional)
Instructions
Place a deep skillet over medium heat and add the olive oil and garlic. Sauté for 1 – 2 minutes and then add the rice and sauté for another 1 – 2 minutes

Next, add the broth, lemon juice, Mrs. Dash, and 1 – 2 tablespoons of the fresh chopped parsley. Stir to combine.

Place a lid on the skillet and allow to come to a boil. Once boiling, turn down to a simmer and cook for 10 minutes.

After cooking for 10 minutes, most of the broth should be absorbed. Lift the lid and sprinkle the shrimp over the surface of the rice and replace the lid and allow the skillet to continue to cook on low for 5 more minutes.

Turn off the heat and allow the dish to rest for another 5 minutes. After the 5 minutes, the shrimp should be firm and pink.

Top the skillet with the feta cheese and remaining parsley. Serve dish hot and with a side salad, enjoy!
---
Incredible Insulin!
Most people recognize the word insulin and associate it with diabetes. What exactly is insulin, and what role does it play in our health? Insulin is a naturally occurring hormone that helps the body use glucose for energy. When a person has type 1 diabetes, the body does not make insulin; therefore people need to receive insulin from injections. When someone has Type 2 diabetes, their body can still produce insulin but doesn't properly use it. Depending on how long a person has Type 2 diabetes or how advanced their diabetes is, they may or may not need to take insulin. Insulin cannot be taken as a pill because it breaks down during digestion, just like the protein in food. It must be injected into the fat under your skin to get into your blood. Insulin was discovered in 1921 and has saved countless numbers of lives since!