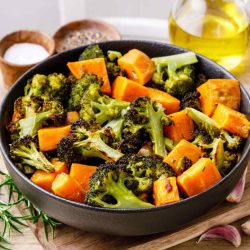 Roasted Sweet Potatoes and Broccoli
Ingredients
2

heads broccoli

2

medium sweet potatoes

2

whole garlic cloves, thinly sliced

2

tbsp

olive oil

1

pinch salt and pepper
Instructions
Preheat the oven to 400 degrees (200 C)

Wash broccoli and sweet potatoes. Cut stems from broccoli and split florets into bite-size pieces. Cut the ends from sweet potatoes, then cut them into small 1/2-inch cubes for roasting (you do not need to peel them before roasting).

Arrange the sweet potatoes and broccoli on a roasting pan and drizzle with olive oil. Toss the vegetables to cover with oil and sprinkle with sliced garlic, salt, and pepper. Place sheet pan in the oven and roast for 35 minutes, stirring partway through to brown on all sides.

Remove pan from oven, arrange vegetables on a plate and serve as a side dish or let cool and use as a salad topping.
---
Immune Health
Good nutrition is essential to a strong immune system, which may offer protection from seasonal illness and other health problems. There is no one specific food that can prevent illness, but there are nutrients that play a role in the immune system. Vitamin A helps protect against infections by keeping the respiratory system healthy. Vitamin A can be found in sweet potatoes, spinach, carrots, mango, broccoli and tomatoes. Vitamin C supports the immune system by stimulating the formation of antibodies. Include more sources of this healthy vitamin by choosing fruits such as oranges, grapefruit and tangerines. Zinc has many functions, such as helping wounds heal. Zinc can be found in lean meat, poultry, seafood, milk, whole grain products, beans, seeds and nuts. Focusing on nutrient-rich foods and healthy lifestyle behaviors can help you and your family stay ahead.