"It wasn't even a matter of believing in myself, it was just a matter of, 'I gave my word, so now I am going to follow through and see where this takes me,'" NHBP Tribal Member Lynn TenBrink said. TenBrink's word took her on a two-day 152-mile ride on a brand-new bicycle all the way from Lake Michigan to Lake Huron.
Organized by the Pokagon Band of Potawatomi Wellness Center, the second annual R.A.T.S. (Ride Across the State) Ride on May 21 and 22, 2022, launched cyclists from the shores of Lake Michigan in Ludington, Michigan, to the beaches of Lake Huron in Bay City, Michigan. The ride serves as a "collaborative effort to bring health and wellness to the Tribal communities throughout Michigan and Indiana," according to the Pokagon Band of Potawatomi Indians.
With her son graduating from high school this spring, TenBrink, 41, realized that now was the time to start focusing on herself. "I was just craving that sense of adventure, something that I can do for myself."
Her adventure began with a small, innocent comment on a friend's Facebook post.
"Johnathon (Moulds) posted on May 1 that he was going to do the R.A.T.S. Ride, and I commented, 'I would love to do something like this.'"
Fellow Tribal Member Moulds took her at her word, connecting TenBrink with then NHBP Health Educator Shelby Brueck. Within days, TenBrink found herself registered, biking with Moulds around The Reservation and Athens, Michigan, and purchasing a brand-new bike — all doing her best to prepare in such a short time for the cross-state cycling excursion.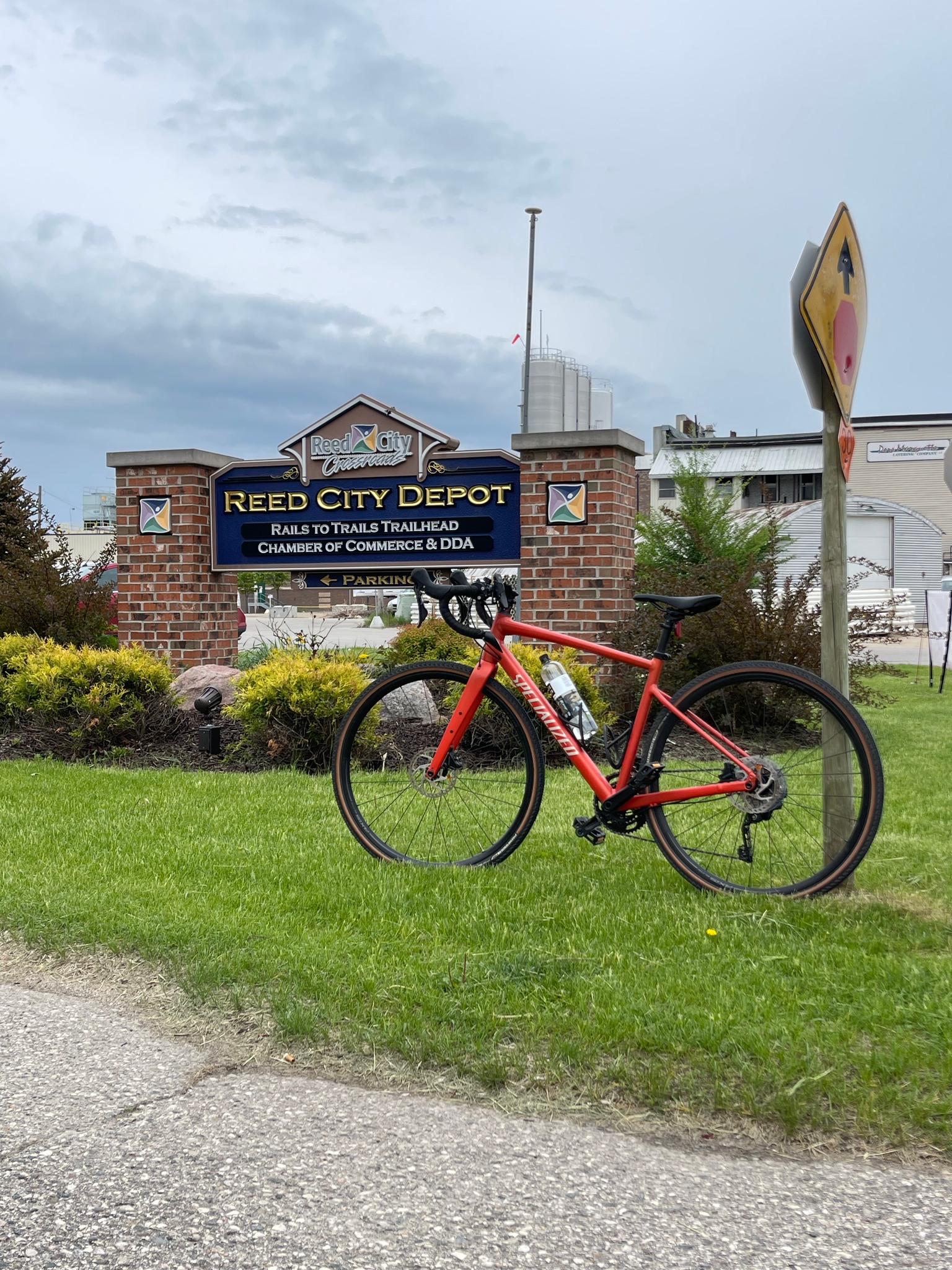 "There was no training on my part," admitted TenBrink. "I just put all my faith in the ride, and said, 'Let's give this a try.'" At first, TenBrink convinced herself, "I can do 75 miles in one day," then after seeing the agenda, she realized, "It's 90 miles the first day, from Ludington to Clare, the first night's stop."
Despite this realization, TenBrink chose to move forward with the ride. "I just had to keep a pace of 10 miles per hour to keep up with the group."
Once on the ride that first day, she focused on the smaller chunks of the journey. "It was a great trail, we would have a pit stop every 15 miles or so, so I would focus on making it to the next stop. That made the trip go faster mentally."

Physically, a member of the group experienced a blown tire in the first three miles. But the group persevered on.
Unfortunately, TenBrink's new bicycle didn't want to participate in the ride as much as she did.
"My bike's gears kept malfunctioning, making it much more difficult to ride," Tenbrink said. "But going on such an organized ride was my reassurance, we had a support group in case we had any medical emergencies, a break down, or whatever."
A support vehicle driven by NHBP Health Office Coordinator Brandon Akerman, with spare bicycle parts and tools, followed the cyclists as they grinded through the state trails toward their destination.
Even with an intense first day filled with self-doubt and bicycle issues, TenBrink was able to keep up with Moulds, collapsing in her hotel room very late that night.
But, she said, "the second day was a piece of cake, only biking 62 miles that day."
Moulds and TenBrink were two of the 21 Native American representatives who participated in the journey on their bikes and some of few to actually cycle the entire route. As she was completing the ride, pulling into the Bay City State Park and greeted by her cousin and cousin's son, TenBrink was amazed at her accomplishment.
"My muscles weren't nearly as sore as I had thought," she said. "It was just so amazing I finished."
The Monday after the race was completed, TenBrink and Moulds called each other. "I wish we were going out for a bike ride today!" The duo then organized a ride from Kalamazoo to South Haven, Michigan, on their bikes on the Kal-Haven Trail, for early June.
Although preparation for this ride was short in nature, the journey to good health has been a long time coming for TenBrink, making her R.A.T.S. feat all the more incredible.
Diagnosed with both scoliosis and a congenital heart defect, TenBrink has faced health setbacks that could have kept her down.
"For years, I constantly had excruciating back pain, and whenever I tried to work out, it made it worse," TenBrink said. "I had two stents placed in 2016 due to holes in my heart. After that procedure, working out felt like bricks were placed in my chest. I couldn't even run a half a lap around a school building. I couldn't do any cardio."
Once TenBrink enrolled at Olivet College in 2018, "I gained a lot of weight." She remained status quo with her health, unable to do anything, or so she thought, until the COVID-19 pandemic when she traveled to Texas to visit her mother in spring 2020.
"I took advantage of the Texas warmth to walk my mom's dog about 3 miles a day. When I came back home three weeks later, I decided, 'I can keep this up.'"
And she did. Back home in Battle Creek, Michigan, TenBrink bundled up and kept walking miles every day.
TenBrink noticed that her back felt better the more she moved. She began attending Burn Boot Camp, which continued improving her mobility and her health, leading to where she is today.