For 15 years, the annual Flapjack Friday event at NHBP has marked the end of a successful sugar bush season and has proclaimed a time for Feasting, fellowship and a little fun for the Community. After pausing due to the pandemic, Flapjack Friday resumed in-person at the Pine Creek Community Center on April 15.
In addition to traditional activities of the event, such as sharing of the flapjacks topped with the Maple Syrup provided by the Tribe, NHBP's Culture Department and Food Sovereignty Coordinator Nickole Keith desired to complement the event by incorporating more cultural learning opportunities, especially those related to food sovereignty and traditional ways of growing and catching food.
After implementing the food sovereignty initiative into their growing department, the Culture Department acquired the Flapjack Friday event from the Environmental Department.
"The Indigenous Consultants are Anishinabék who specialize in different areas surrounding our food systems and traditions," Keith said. "I thought it would be a great idea to have Flapjack Friday turn into a meet-and-greet between our Consultants and Tribal Members."
The Culture Department set up booths for the Consultants inside and outside to create interactive displays, games and giveaways to help Tribal Members understand the traditional ways of food.
Some of the topics shared during the Flapjack Friday included how to:
Start beekeeping and collecting honey, including bee bag giveaways, presented by NHBP Tribal Elder and Beekeeping Consultant Claude Ryan;
Use the tools for the traditional Wild Rice camp held in August, such as knocking sticks, demonstrated by Consultant Dwayne Jarmin, a Grand Traverse Band Member;
Fish with an interactive fishing game with three levels for various age groups, presented by NHBP Tribal Members and Consultants for Fishing and Hunting Darrel Day and Brian Rios;
Plant and care for many traditional seeds and plants, including the distribution of starter Séma plants, Three Sisters seeds, sunflower seeds and necessary gardening tools, presented by Kaya Deerinwater, Citizen Band Potawatomi, and Yebishawn Oldshield, Gun Lake Tribal Member, Gardening/Foraging/Traditional Knowledge Keepers/Harvesting Consultants;
Make Maple Syrup popcorn, with a sampling provided, presented by Chef Jody Gzhadawsot Mattena, Citizen Band Potawatomi.
"There's an assumption that we have a huge harvest surplus of Maple Syrup as a Tribe, enough to sell even, and we really don't," said Keith. "Much of it depends on the climate and weather that year. Some seasons run as long as three weeks. This season was cut short since it got warm quickly but then cold again.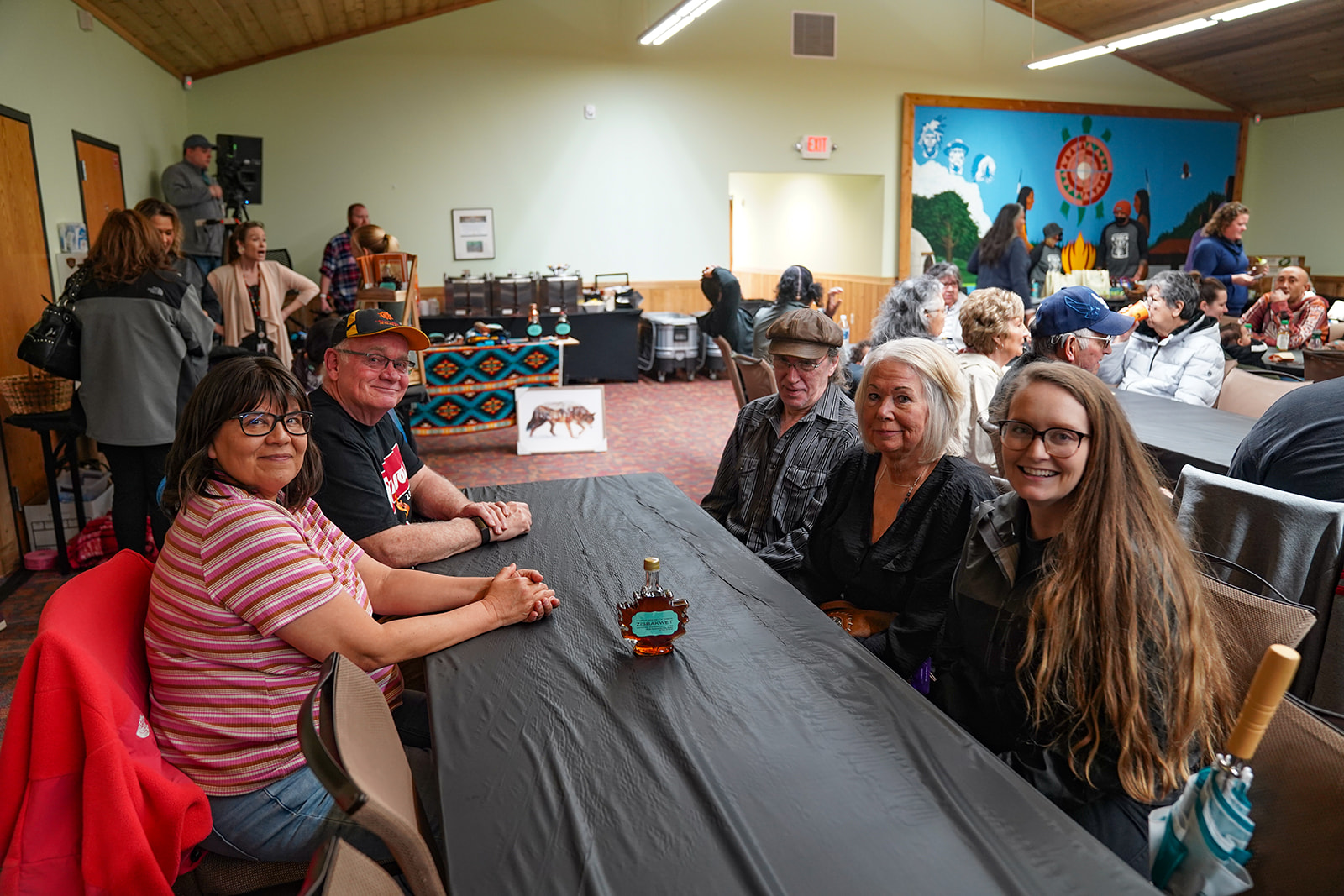 "We were worried about participation for Flapjack Friday, but the event blew away all of our expectations," Keith said. "We didn't want to take away from the traditional events, but I think we complemented it with the activities, education and giveaways."
Also, during the event, NHBP paused for a few minutes to honor Government Records Manager Larysa Hill, whose family members have been gravely affected by the Russian invasion of Ukraine. To view, this story click here.
If you would like to learn more about the Food Sovereignty Program at NHBP, please contact Nickole Keith at Nickole.Keith@nhbp-nsn.gov and join the "NHBP Food Sovereignty" Facebook group. Click here to visit this group.