Generosity Poured out of the NHBP Community to Help Employee's Family Members
"My heartstrings were being pulled; I just knew we had to do something to help them, and how can we share our culture?" said NHBP Tribal Council Vice Chairperson Dorie Rios.
As gatherings have only recently been allowed since the pandemic, NHBP Tribal Council dedicated a portion of the important cultural event Flapjack Friday, held on April 15, to honor and recognize Government Records Manager Larysa Hill, whose family is suffering grave hardships due to the Russian invasion of Ukraine.
Rios collaborated with the Culture Department so NHBP could demonstrate its generosity during a special ceremony at Flapjack Friday to Hill's family members, some of who are currently war refugees living in Poland.
Brainstorming with the Culture Department staff, Council decided to host a 50/50 raffle during the meal, which would benefit Hill's family members and friends affected by the war.
Rios also commissioned NHBP Culture Specialist Jenniffer Wethington to design and create a Ribbon Skirt and a Kokum shawl to reflect both the NHBP and Ukrainian cultures. The Kokum scarf – also known as khustka in Ukraine – has become widely known throughout both Ukraine and Indigenous cultures in Canada and the United States to honor women of both cultures, with Kokum meaning grandmother.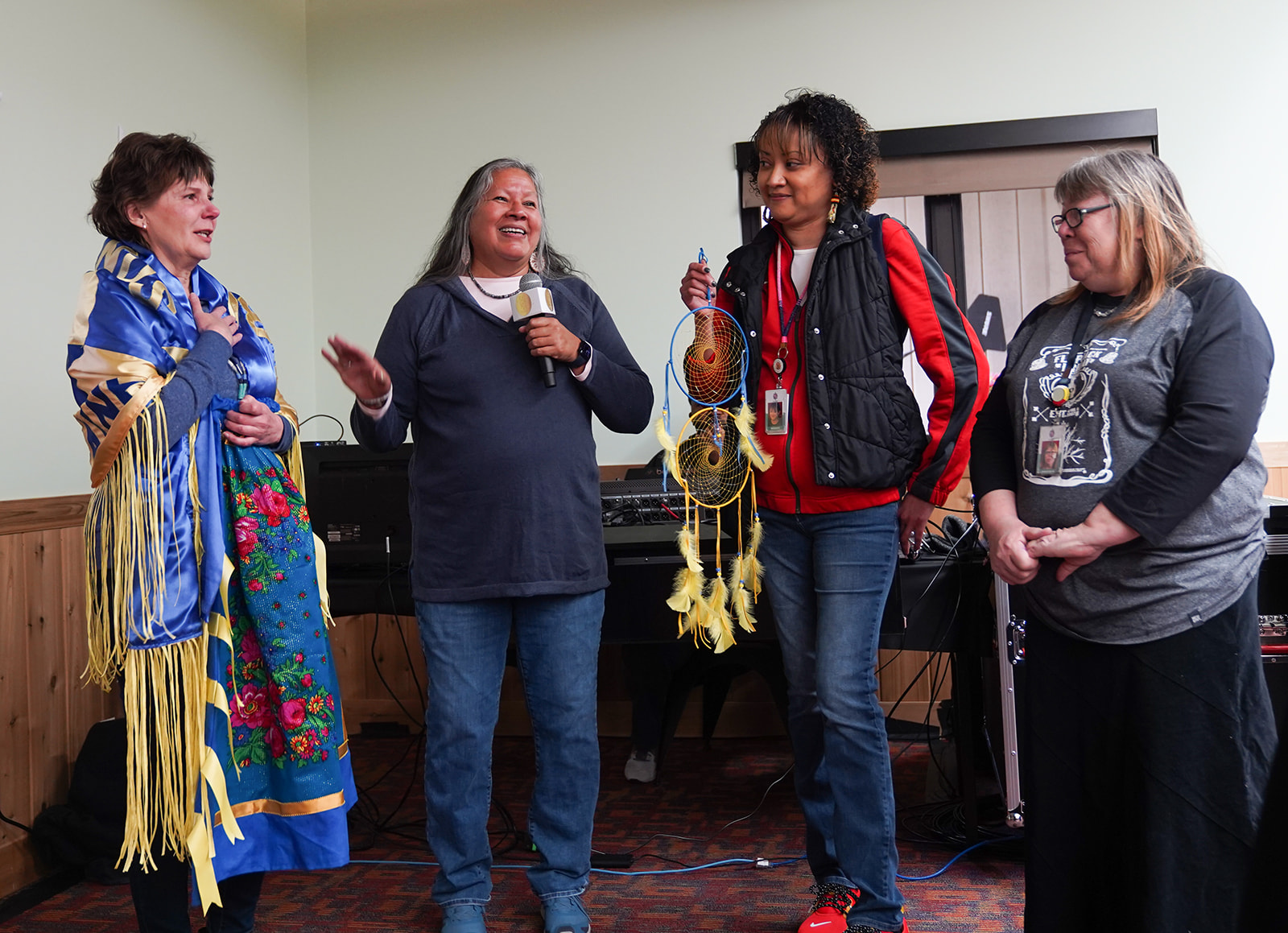 "The Ribbon Skirt I had completed weeks before the event, but the Kokum shawl wasn't coming to my mind until after I taught language class the night before," said Wethington, who began working on the shawl at 9 p.m. and stayed up the entire night before to finish the gift. "The lettering, 'NHBP Stands With Ukraine,' took far longer than I thought."
Wethington set up her supplies in the Elder room on the morning of Flapjack Friday and sewed the fringe on the shawl until 20 minutes before it was presented to Hill.
"This was my rockstar moment," Wethington said of the gifting of the shawl and Ribbon Skirt to Hill.
Rising immediately to their feet, the crowd gave a standing ovation to Hill and Wethington once the shawl was presented to Hill.
"People were clapping, whistling, all the while tears were streaming down their faces," said Wethington. "I wasn't expecting that kind of reaction. There's nothing else I can do to top that, the look on Larysa's face when I gave her that shawl and the reaction by the NBHP Community."
Tribal Members and NHBP team members poured their generosity into the 50/50 raffle, and the winner, Tribal Elder Linda Rice, even donated her prize winnings back to help Hill's family members.
"The gifts are a tremendous help in these tragic days for my family and friends in Ukraine," Hill said. "My family sends their heartfelt thanks to the NHBP Tribe. It truly helps them in a big way, and it brightens their dark moment. No matter which words I use, I would never be able to express my appreciation to you fully.
"Thank you for standing by me and extending a helping hand to me when I needed it most."