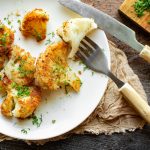 Cheesy Veggie Dippers
Recipe by Dawn Jackson Blatner, RDN, CSSD fromeatright.org
Ingredients
1

cup

cornflakes cereal

crushed to 1/4 cup

3/4

cup

cheese-flavored snack crackers

crushed to 1/2 cup

2

tbsp

grated Parmesan cheese

1/8

tsp

garlic powder

1/8

tsp

cayenne pepper (optional)

2

egg whites

slightly beaten

2

tbsp

water

1

small zucchini

cut into 1/4-inch-thick slices

1

cup

cauliflower florets

1

cup

broccoli florets

1

cup

pizza sauce
Instructions
In a shallow dish, stir together cornflakes cereal, cheese-flavored snack crackers, Parmesan cheese, garlic powder and cayenne pepper (if desired).

In another small bowl, stir together egg whites and water. Dip zucchini, cauliflower and broccoli into egg mixture.

Roll in crumb mixture, gently pressing crumbs onto vegetables. Place on baking sheet coated with nonstick spray.

Bake at 400°F for 8 to 10 minutes or until vegetables are crisp-tender.

Meanwhile, in a small microwave-safe bowl, heat pizza sauce on high for 30 seconds to 1minute or until heated through. Serve as dipping sauce with warm vegetables
SEPTEMBER NUTRITION NOTES
National Family Meals Month
Did you know that September is National Family Meals Month? September celebrates and encourages families to gather and enjoy all the benefits of sharing mealtime together. National Family Meals Month encourages families to commit to at least one additional family meal more than they already spend together, whether it be one more weekday dinner or even breakfast on the weekends.
Research shows that more family meals equals more health benefits. For example, did you know that greater amounts of family meals are linked to lower rates of obesity and higher intakes of fruits and vegetables? And with each family meal, teenagers are less likely to develop symptoms of depression. Family meals for the win!
For more information, check out www.fmi.org/family-meals-movement.