Written by Health Educator Shelby Gibson
Do you ever find yourself saying things like, "I should lose weight," "I should start exercising," "I should spend more time with my family," or "I should quit smoking?" But then you never turn these "I should" statements into "I will" statements?
Do you tell yourself, "I will start Monday?" Maybe you start Monday but then give up Tuesday. These are all every common things. People have great intentions to make changes but don't take the proper steps to truly prepare themselves before they jump right in. This article will walk you through the steps of developing your own wellness vision and setting goals that will help you along your wellness journey.
The first thing to do is develop a personal wellness vision. A wellness vision is what you see your ideal future looking like. Close your eyes and start dreaming up what your ideal future looks like. Have fun with it! Maybe you see yourself on a family vacation, somewhere on a warm beach wearing a swimsuit that you feel comfortable in, running through the sand with your child. Maybe you see yourself as a retired grandfather that is in a good place financially and able to attend all your grandchildren's sporting events. Whatever your wellness vision is, it is yours, be proud of it and own it!
So now that you are done with the fun part, it is time to get serious. Ask yourself how you are going to get to that point and what changes need to be made to get there? Start by setting three month goals for yourself. These are meant to be something broader that you are striving for and not something that will happen overnight. Pick two or three goals, write them down and then decide how confident you are with them. If you aren't feeling overly confident with it, it is ok to change it. Change it so you are confident that it is something you can achieve.
From there, you want to break down those three month goals into weekly goals. Your weekly goals are meant to be very specific and short term. Pick one to three goals, write them down and again decide how confident you are with them.
Below is an example of a vision, monthly, and weekly goals.
My Wellness Vision:
My wellness vision is to take full control of my health and happiness and live a balanced life. My motivators are to feel more energized so I can spend more quality time with my significant other. My obstacles are my job stresses and the lack of control I feel. My strategies to overcome my obstacles are to slowly regain control of what I can control and not worry about what I can't control.
Three Month Goals:
I will exercise at the gym 3 days per week.
I will find a stress reduction technique that I like and utilize it daily.
I will pack a healthy lunch on workdays.
Week 1 Goals:
I will go to the gym on Tuesday at 5 p.m. to meet with my personal trainer for an evaluation.
I will take 5 minutes after I eat lunch on Monday, Wednesday and Friday, and sit quietly and listen to some music in my car.
I will pack a healthy lunch on Monday and Wednesday.
Towards the end of week 1, go through and evaluate your goals. Check to see if you achieved it. If you did, great! If not, that is OK too. Hopefully you learned something and can make changes for the coming weeks to be more successful. Once you are done evaluating, set your week 2 goals. This process will continue week after week until you feel that you have met your three month goals.
You will continue this whole cycle week after week, month after month, remembering to continuously look back at your wellness vision to make sure it is still relevant to what you want. Goal setting takes practice but once you get the hang of it, it can be very useful. The main thing is to set yourself up for success and not failure. When setting your goals remember to use the S.M.A.R.T goal technique. Here is what that means: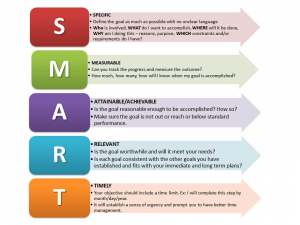 SMART goal picture provided by http://www.houseofhunt.com/executive-edge/executive-edge-june-2016-smart-goals/
Hopefully this article has helped you visualize how to create a wellness vision then set goals that will help you achieve it.