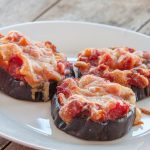 Easy Cheesy Eggplant Sandwiches
Ingredients
1

large eggplant

1

jar

marinara sauce

1

ball

fresh mozzarella

4

whole wheat buns/rolls

1

Tb

Italian seasoning

1

Tb

garlic powder

1-2

Tb

olive oil

salt and pepper
Instructions
Slice eggplant into quarter-inch thick rounds. Lay eggplant flat on a paper towel and lightly sprinkle with salt. Let the eggplant sit for 10-15 minutes. Then, using another paper towel, wipe off excess moisture and salt from eggplant. This helps the eggplant have a firmer texture.

Season both sides of the eggplant slices with Italian seasoning and garlic powder.

Heat skillet over medium-high heat and add olive oil. Then add the eggplant slices to the skillet and cook for 3 to 6 minutes on each side.

Once the eggplant is almost done cooking, pour marinara sauce over the eggplant. Use as much or as little sauce as you would like, but make sure each slice is covered.

Slice the mozzarella and place a slice of cheese on each eggplant.

Assemble sandwich by adding one to two cheesy eggplant slices to your buns. Enjoy!
---
Does "Plant-Based" Mean Plant Only?
In recent years, a variety of new diets promoting plant-based eating have become more and more popular. We all know eating enough fruits and vegetables is exceptionally important for our health. However, it can be challenging to understand what a plant-based diet truly consists of. Interestingly enough, there isn't a consensus on the definition of this way of eating, which means a plant-based diet can be tailored to your specific nutritional needs!

There are several types of plant-based diets including, vegan, vegetarian, flexitarian, Mediterranean and DASH diets, just to name a few. Some of these diets include meat, eggs and dairy, while some do not. The one thing these diets all have in common is fruits, vegetables, whole grains, nuts and beans are the most consumed foods when following these ways of nourishment.

Plant-based eating is known for numerous health benefits, including a lower risk of heart disease, diabetes and obesity. Next time you're looking to switch up your meals, try a plant-based recipe!