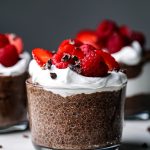 Chia Seed Pudding
Ingredients
1

cup

milk of choice

3/4

cup

chia seeds

1/2

tsp

vanilla extract

1

tbsp

cocoa powder
Instructions
In a small container, add milk and chia seeds.

Then add vanilla extract and cocoa powder. Stir until well combined.

Transfer to the refrigerator and let sit until chia seeds absorb the milk and expand. (about 8 hours).

Before serving, stir again to incorporate any clumps of chia seeds.

For added freshness, top with fresh fruit like raspberries or strawberry slices.
---
American Heart Month
February is American Heart Health Month! A healthy diet and lifestyle are the keys to preventing and managing cardiovascular disease. The American Heart Association recommends eating fish at least twice a week. This is due to the omega-3 fatty acids found naturally in fish, especially: salmon, mackerel, tuna, herring, and sardines. If you're not a fan of seafood, omega-3s are also found in plant-based foods such as ground flaxseeds, walnuts, and chia seeds. Consuming omega-3 fatty acids may reduce inflammation throughout the body. Omega-3s also help lower triglyceride levels in your blood and slow down the rate that plaque (fat) builds up in your arteries. Chia see pudding is a great dessert option for incorporating omega-3s.