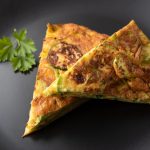 Easy Vegetable Frittata
Ingredients
8

eggs

1/3

cup

milk of choice

1/2

tsp

pepper

1/2

tsp

paprika

1

tsp

garlic powder

1

orange bell pepper sliced

1 small

onion

2

cups

packaged spinach

1

cup

shredded mozzarella

olive oil
Instructions
Pre-heat oven to 350 degrees F.

Cut up onion and bell pepper into slices.

Heat a skillet over medium heat. Once hot, add a drizzle of oil and add sliced vegetables. Cook until softened, approximately4-6 minutes.

Prepare an 8×8 baking dish with oil or nonstick spray.

In a large mixing bowl, combine eggs, milk, seasonings, spinach and mozzarella and stir to combine.

Once pepper and onion are done cooking, add that to the egg mixture and stir.

Pour the egg mixture into the prepared dish and cook for 20 minutes in the oven. After 20 minutes, check the temperature and finish with a 2-minute broil to brown the top.

Let frittata rest for 5 minutes before serving. Enjoy!
---
Healthy Vision Month
The month of May is healthy vision month! This month is a great time to make an appointment with your ophthalmologist or optometrist. It's also a great time to focus on eating well to keep your eyes healthy. While an overall general healthy and balanced diet is recommended for nourishing our eyes, there are specific nutrients that specifically aid in keeping our vision at its best. Vitamin A is an essential nutrient in vision as it helps with low-light vision, serves as an antioxidant, and keeps our corneas hydrated and working their best. Vitamin A is found in yellow, red and orange fruits and vegetables, eggs, and dairy products. Lutein and zeaxanthin are nutrients that help protect the eye from light damage. Lutein and zeaxanthin are found in corn, wheat, peppers, and more. Make sure to eat a wide variety of nutritious foods for the best eye health!
News
Are you looking to brush up on some of your culinary skills while also staying in the comfort of your home? Join NHBP Registered Dietitian Erin Stark for a virtual cooking class on Friday, May 19, at noon! All the ingredients needed to make a delicious and balanced dish will be delivered to your home prior to the class. The only things you will need to supply are your kitchen, internet, and smartphone or laptop! Utilizing the online video program, Zoom, you will be guided step-by-step to create a beautiful and nutritious meal. This class will be limited to 10 participants. Registration closes May 12 – so register now with Erin Stark by text at 269.312.4337, by phone at 269.704.4180, or email at erin.stark@nhbp-nsn.gov.
Light Up the Rez 5K & Turtle Trot
Light Up The Rez with us on Friday, June 9, on the Pine Creek Indian Reservation. The Turtle Trot starts at 8 p.m. and the 5K begins at 9 p.m. Registration is free for NHBP youth and Elders. Contact Shelby Brueck at 269.704.8345 for the discount code. Register online anytime at https://lightuptherez5k1mileturtletrot.itsyourrace.com/event.aspx?id=9142.